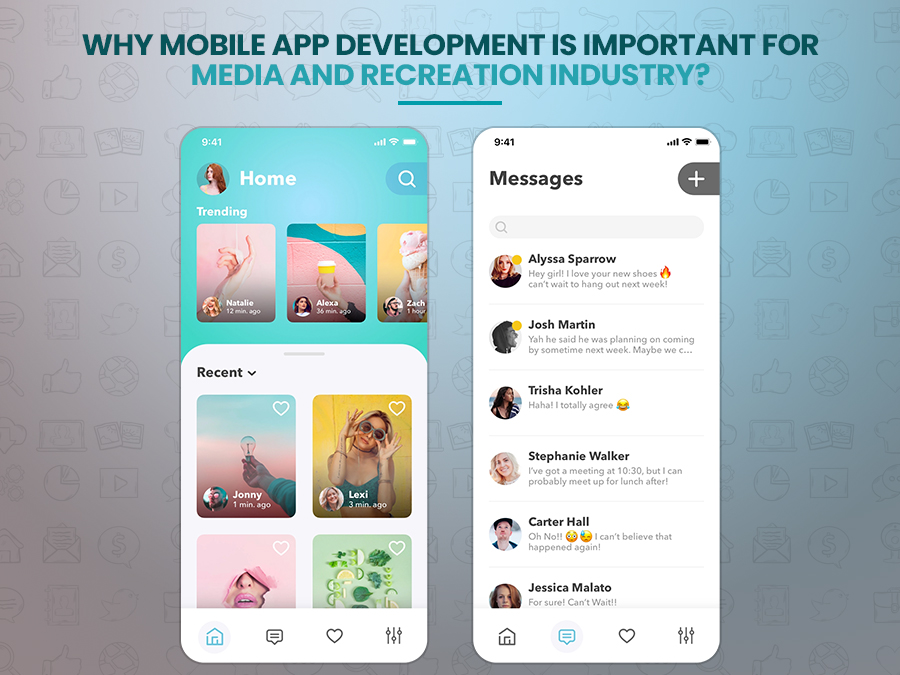 How Mobile Applications Are Revolutionizing the Media and Entertainment Industry
One of the biggest technological revolutions that have taken place over the last decade or so has been the increase in mobile applications and their usefulness in our everyday lives. While mobile technology has been around since the 1980s, it's only recently that we've seen exponential growth in mobile app usage and adoption by consumers and businesses alike. Mobile apps are now being used in every industry to solve problems, streamline tasks and make life easier, with media and entertainment no exception.
It's no secret that the media and entertainment industry has been in the midst of change in recent years. Though new movies, shows, and music are still being created, how people consume and interact with all of these mediums has changed drastically over the last decade, thanks to innovations in mobile technology, such as smartphones and tablets.
Have a look at the value of the entertainment and media market worldwide from 2017 to 2026 (in trillion U.S. dollars):
Also, check the share of major industry segments:
This blog post will discuss some of the most innovative and ground-breaking ways mobile applications have transformed the media and entertainment industry.
The Top 5 Apps Taking Over the Media and Entertainment Industry
There are some of the most innovative media and entertainment industry apps right now – here's why they're so popular and why you should be using them too!
#1: Netflix
Netflix has long been a top media and entertainment app, but recent trends suggest that it is still going strong. In Q3 of 2017, more than 20% of all internet traffic in North America was spent on streaming video, much of it on Netflix. The number of subscribers has also increased, with 75 million people paying for a monthly subscription.
There are also different ways that customers can access the service: they can download a mobile application or use their TV or gaming console to stream content through their television. The company continues to offer new original shows that are well-received by critics, such as Stranger Things and Narcos. All in all, there is no sign that this company will stop being relevant anytime soon.
#2: TED
Ted is an excellent example of an app that is not just used for entertainment purposes. The app has revolutionized conference presentations by allowing people to share their ideas without using boring slides. It has also been trendy in educational settings, with students using TED Talks as an alternative to lectures. Finally, TED provides a platform for independent thinkers and innovators to share their ideas with like-minded individuals worldwide.
#3: Spotify
Spotify, a Swedish company, founded in 2006, is an online music streaming service that has revolutionized how people listen to music. Spotify is available for free on its website or on your smartphone. It offers a wide range of genres and artists, so it's easy to find something you like to listen to, whether you're looking for classical music or hip-hop.
Spotify also allows users to create their playlists, thus making it a more personalized experience. The app has become so popular that users can share their playlists with friends and family through social media sites such as Facebook and Twitter. Spotify has revolutionized the media industry by making it possible for listeners to buy albums from within the app rather than through iTunes or Amazon.
#4: 9GAG
9GAG is a media-sharing site launched in 2008 by Australian Gold Coast resident Ray Chan. The site shares content through user-submitted photos, videos, text posts, and links. Users can upvote or downvote content on the website, similar to other social networks such as Reddit or Digg. Posts with more upvotes appear towards the top of their respective category pages, while posts with fewer upvotes appear lower down in their category pages.
Similarly, if an image receives many downvotes, it will be pushed to the bottom of the page regardless of how many upvotes it has received. In addition, users can create memes, usually photo collages with overlaid text intended for humorous effects. Memes are made by either browsing existing posts or submitting new content; however, only images may be submitted as memes.
#5: HotStar
HotStar is an Indian-based company that is a subsidiary of Twenty-First Century Fox. It offers movies, TV shows, live cricket, soccer matches, and much more for a reasonable price. The app also provides exclusive content for its users, including a library of old Bollywood films which can't be found anywhere else.
While most media companies have struggled to find new ways to monetize their content through social media platforms, HotStar has been able to use Facebook and Twitter to its advantage. Fans are encouraged to share their favorite TV shows on these networks to get other users interested in watching.
Why are mobile applications revolutionizing the media and entertainment industry?
Mobile applications are revolutionizing the media and entertainment industry by giving users more control over what they want to watch, listen to, and read. With the rise of smartphones and tablets came the rise of mobile applications designed to provide entertainment for their users. That's why many businesses are moving for App Development in Dubai to get their media and entertainment industry.
Apps can make it easier for people with busy schedules to stay up-to-date on their favorite TV shows or movies. And with a new Flipboard app, people can access all their favorite magazines in one place! Here are some reasons why should media and entertainment businesses rely on Android and iOS app development:\
Increase your Visibility
A mobile application is an easy way to reach a broad audience when it comes to increasing your visibility. Mobile applications have become an integral part of the media and entertainment industry as they provide easy access to information on smartphones.
From streaming videos to reading articles, apps are designed for people. They are simple and convenient, providing users with everything they need without leaving their phones. Companies like CNN now offer up-to-date news content in their app, making it easier for users to stay informed about world events. With so many great benefits available through mobile applications, there's no question that this trend will continue into 2023!
Enhance Social Networking Strategies
The mobile revolution has ushered in a new era of networking. Apps allow for a more personal connection with friends and acquaintances and instant social updates. You can share everything from thoughts to photos with your followers in just a few taps. For those in the media industry, apps change how they connect with fans.
It is not uncommon for a celebrity to have an app on their website or an official social media page where their audience members can interact with them via chat rooms, contests, or blogs that give people backstage access. Companies and brands can establish a stronger bond with customers by giving them access to exclusive offers through an app or game on Facebook or Twitter.
Brand Reinforcement
One of the most important aspects of a media and entertainment company is its brand. Brand reinforcement is crucial for any company that wants to grow and stay in business. This can be done through social media, advertisements, or even mobile application development.
Mobile applications are in the perfect position to help brands stay relevant and competitive. In today's fast-paced world, these companies need to create apps that are not only high quality but also innovative to keep up with changing technology and consumers' ever-changing media habits.
With so many options, it can be difficult for these organizations to decide what would work best. But they know that they need their app to stand out from the crowd if they want customers to notice them. The right app will allow them to connect with people on a personal level and allow them to make an impact on their lives.
Repeat Business
Mobile apps have also helped the Repeat Business of the media and entertainment industry. With more and more people getting their content from their mobile devices, it has become imperative for publishers to provide an app to ensure they are not missing out on an opportunity to engage with consumers.
Netflix launched its streaming video service in 2007 but didn't introduce a mobile application until 2012. By then, Hulu was already on iOS and Android, while Amazon Instant Video had been available on Kindle Fire since 2011. According to one study, only one-third of Android apps and one-quarter of iOS apps offer a full array of features such as downloading titles or watching offline (so users can watch videos without using any data).
Customer Engagement
Mobile apps are changing customer engagement in the media and entertainment industry by enhancing customer experience. A mobile app enhances the customer experience by combining audio, video, and interactive elements to create a rich user experience.
Interactive features such as games, quizzes, and polls can be used in applications to enhance interactivity with content and make it more fun for customers to engage with media. These mobile experiences keep people engaged with the content and provide new opportunities for brands to connect with customers.
Cost Reduction
Mobile apps help reduce the cost of the media and entertainment industry with their intelligent and easy-to-use features. For example, TV channels are now accessible on mobile devices using an app like WatchESPN.
The app not only provides live streaming of different sports events but also has a feature that allows users to watch recorded games at their convenience. Mobile applications have helped record labels reduce costs by moving marketing campaigns from traditional mediums such as print advertisements or billboards to mobile ones.
Music labels have reduced costs for producing and distributing CDs through online platforms like iTunes or Amazon MP3 Store. Movies can be downloaded from Netflix or bought from Google Play instead of going to a movie theater or purchasing DVDs from a store.
Innovative uses for video games include downloading content and playing games on Facebook instead of purchasing them from video game stores.
6 Top Features that Make Entertainment Apps Engaging
Millions of mobile apps are available for consumers to download and interact with. The average consumer has 50 apps on their phone, half of which are used daily. Keeping users entertained with your app is becoming increasingly difficult with such high engagement rates and short attention spans. That's why it's essential to think about the features you can include in your app that will engage users and make them want to come back to your app again and again in the future. Here are some top features you should consider incorporating into your next app to make it more engaging to consumers.
Content flow
Content is the most critical factor in any entertainment app. It gives users a reason to keep returning for more and more. If the content does not appeal to a user, they will leave, and it will be up to your paid advertisements to bring them back.
Gaming and music
Games and music are popular features in entertainment apps. They provide a way to have fun with friends or simply enjoy your favorite songs without opening up a separate app. Additionally, games can be used as a form of entertainment when you have a few minutes of downtime.
Engagement features
Games may be fun, but their success depends on the player's interest in the game. New games are constantly being released, so keeping players engaged becomes harder and harder. How can developers make games more engaging? I will go over 6 top features that make entertainment apps engaging to help you brainstorm ideas for your next round: 1. Rewards – Rewarding players for completing specific tasks can encourage them to continue playing your game.
In-app purchase capabilities
It's essential also to include in-app purchase capabilities. The app should be designed to cater to customers who enjoy making purchases regularly while they are on the app.
Social media integration
Integrating social media with other features is always useful for a more profound user experience. In the case of entertainment apps, this can also be used to create competitions and live events or to announce new content. By sharing posts from your app on Facebook, you can get the word out in a way that most people will notice.
Content moderation facility
Many of the top entertainment apps use a content moderation facility to provide a safe environment for users. This is one of the many factors which makes them so engaging.
Intuitive search functionality
One of the most essential features of entertainment apps is the intuitive search functionality. Finding a show, movie, or song quickly and efficiently is key to an app's success. If an app doesn't provide this, it can be frustrating and confusing for users.
Future of Mobile Apps in the Entertainment Industry
The future of mobile apps will be huge for the entertainment industry. The advent of smartphones has changed how we consume content, with consumers turning to their phones for everything from reading articles to watching movies.
As such, mobile apps are a natural progression for the industry; they are a new platform allowing you to watch your favorite TV shows or movies on your phone or tablet while you're on the go. This trend is also showing up in other industry sectors, with streaming services like Netflix releasing their app so that viewers can watch shows on their terms.
There's still lots of room for growth, but one thing is clear: mobile apps are here to stay. One company called Frametastic even takes it one step further by providing high-quality HD images and an interactive, immersive experience on its app. It's these types of features and innovations that are revolutionizing the media and entertainment industry.
Conclusion
We hope you found this blog post informative! Mobile apps are revolutionizing how we live our lives, and they are revolutionizing how businesses operate. If you want to stay competitive with your competitors, consider investing in a mobile application that will make life easier for customers and employees.
To conclude, hiring a Mobile App Developer is essential in ensuring your business has a mobile presence. They can help create applications that will enhance your business, like an app for customer service or order fulfillment.