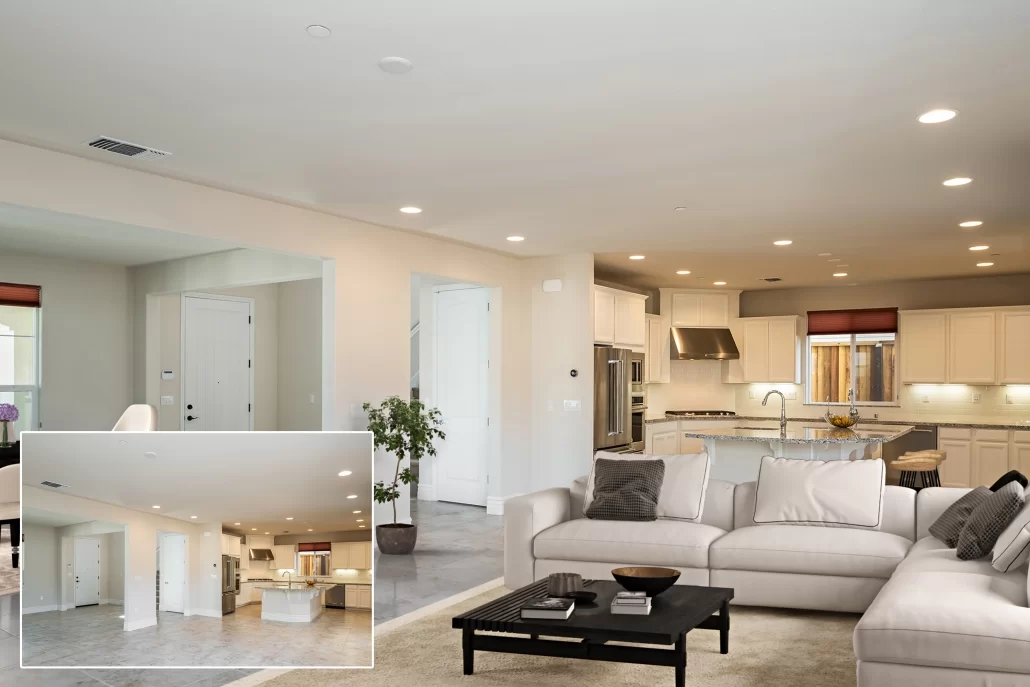 Virtual staging is a great way to gain potential real estate buyers because it allows clients to see the bare space without clutter. Real estate listings are very competitive, with most agents using their best photo editing techniques with software or apps. If you want to do staging, you may ask yourself, "What program do virtual stagers use?" This blog post will give you a list of different options available. Luckily, there are several virtual staging options you can choose from.
Virtual Home Staging Software
1. Virtual Staging Solutions
Virtual Staging Solutions offers turnaround time of one to two business days, and rush service is available for an additional fee. You'll also receive two free revisions and "happiness guaranteed" or your money back. Submit photos of each room, choose a style from their pre-designed furniture options, and your designer will do the rest.
Virtual Staging Solutions also offers you to digitally stage a House virtual staging in which they change flooring, walls, cabinets, and more. They'll also remove existing furniture and virtually stage with new options. Need virtual construction help? They've got you covered there, too.
2. BoxBrownie
BoxBrownie promises to increase buyer interest, help you sell properties 75% faster, bring in a higher sales price (up to 85% higher), and help you stage a home at a fraction of the cost of non-virtual staging. Give them your photos and 48 hours, and they'll do the rest.
For additional fees, BoxBrownie also offers image enhancement, day-to-dusk image retouching, floor plan redraws, renders, copywriting, and 360-degree services.
3. VisualStager
VisualStager is a do-it-yourself virtual home staging software that lets you do the styling. Upload your room photos, erase existing furniture, select from over 4,000 furniture items, and simply drag and stage your photos. Once finished, you can share staged photos as JPGs or on the cloud as a flarelet.
4. VHT Studios
VHT offers similar services as those listed above. Staging with Photoshop or Virtual Staging painting, decluttering, redecorating, and virtual twilight are all available. And they promise to help you sell your home 32% faster, with their photos and expertise.
5. VRX Staging
Upload photos under 6MB, and VRX will return them by the very next business day before 5:00 PM CST, Monday through Friday. You'll receive one free revision per photo and only pay $5.00 per revision per photo after that. Want them to take the photos for you? They can do that too, if you're located in the United States.
6. Room Planner
The fifth app, Room Planner, is intended to dress up and modify rooms. Room Planner is a virtual staging software for Android and iOs devices to create stunning visuals for your real estate listing. You can measure your space and scale your design according to plan dimensions. Create beautiful and professional two-dimensional and three-dimensional visualizations for your floor plans to furnish and decorate with world-famous brands.
You can select the subscription that works for you. The app has predesigned layouts for different house rooms like living rooms, bathrooms, bedrooms, etc., to act as inspiration for your visualization.
7. Planner 5D
Planner 5D is a graphics app available for web, iOS, Android, macOS, and Windows. You can create 2D and 3D interior designs from scratch by an automated query, uploaded plan, designed template, or hired designer. The app is free for download, but there may be in-app purchases.
The company's website offers different interior design activities for both amateur and professional designers. You can upload a floor plan and convert it into a digital project.
8. MagicPlan
MagicPlan is an intuitive app that allows you to create floor plans for iOS and Android devices. The application automatically detects elements like doors, floors, windows, and walls so that you can accurately sketch 2D and 3D floor plans similar to virtually-staged images. You won't need to hire a professional architect for floor plans and measurements.
MagicPlan offers three pricing plans, and all of them come with two free months for annual payments:
$9.99 monthly for Sketch. The plan features unlimited projects, measure and sketch, 2D and 3D sketch exports, and team collaboration.
$29.99 monthly for Report. The plan has all Sketch features, sharing photos and 360-degree images, notes, markups, custom forms, objects, and premium integrations.
$89.99 monthly for Estimate. The plan has all Report features, including cost estimates, custom price lists, and phone support.
Although this app is not strictly for virtual staging, MagicPlan deserves a place on the list because it helps real estate agents collaborate with other graphic artists.
Real estate professionals often work with expert photographers and editors to get the best results. What program do virtual stagers use? What happens if you don't have proficiency in using it? You may want to leave your photos to creative specialists with the right tools and equipment to make your virtual staging come to life. You can drop off your images and pick them up after edits.
Several companies offer such services with their respective specializations and terms:
9. PadStyler
PadStyler is a software that creates virtual staging services. The company maintains an extensive library of 3D products from lights, artworks, rugs, furniture, decors, throws, pillows, and more. PadStyler offers two business days or less turnaround time for standard delivery virtual staging with rush delivery of 6 to 12 hours available. The team delivers most rush orders under one day on weekdays.
PadStyler offers bulk discounts, rush delivery, live chat support, unlimited free revisions, and a money-back guarantee. Clients can request a refund within a week from the initial order date if the project hasn't been received and downloaded. They also offer nonrefundable custom 3D home renders. The downside to PadStyler is its extensive 3D catalog; most virtual stage photos look too digital and rendered.
10. Spotless Agency
The Spotless Agency is a company that offers a wide range of real estate photo editing and rendering services, from virtual staging to architectural visualization. Its services could help real estate agents envision their ideas or concepts.
Related:  How to sell your property using floor plans?
Aside from virtual staging, the company also offers 2D and 3D floor plan services starting at $79/image for 2D and $350/image for 3D.
11. Sweet Home 3D
If you're asking, what program do virtual stagers use? The answer may be Sweet Home 3D, a free, open-source interior design application that was first released in 2006 and is still upgrading in 2022. It's a classic digital 2D and 3D design program developed by eTeks. Unlike the other apps in the list, it has a retro and traditional web design.
The application has the following virtual staging features:
Construct photorealistic videos and images controlling sunlight and customizing lighting according to the geographic location and timezone.
Import room blueprint to draw walls, customize surface textures, and 3D models to finish the catalog.
Design free home plans.
Sweet Home 3D is available for Windows, macOS, and Linux operating systems, compatible with any WebGL browser, and translated into 29 languages.
12. Real Tour Vision (RTV)
It creates 2D or 3D virtual home staging or real estate tours and offers a range of full-service photo and video options, including drones. Real estate agents can benefit from their staging services, especially for digital listings.
Here are the pricing options for virtual staging:
RTV offers item removal, virtual renovation, 3D rendering, twilight conversion, etc.
So, is virtual staging worth it?
The answer is "yes." Virtual staging allows you to present a property as it could be, which helps potential buyers emotionally connect to the unit. Additionally, it costs just a fraction of what you'd spend on actual, physical staging. If you want to use virtual staging to its full potential, though, there are a few things you'll need to know.
How much does virtual staging cost?
The price of virtual staging varies from service to service. It also rests on how many rooms you need staged, the amount of space you're looking to cover, and the turnaround time you need for the images.
By and large, the cost of virtual staging hovers between $30 and $150 per photo — but some contractors might charge considerably more for their services, and others might charge less.