Fashion
Bridal Lehenga with Price for Every Budget from Vasansi Jaipur
Hey beautiful bride-to-be, we know you have been looking for the best bridal lehenga online that fits your budget. But now that you are here, you don't have to stress anymore about online shopping for your bridal lehenga at the best price.
We know the best brand in Jaipur, which sells bridal lehengas online in all price ranges, i.e. Vasansi Jaipur. So no matter where you are from or what budget you have for buying your wedding lehenga, you can buy the perfect bridal outfit online from Vasansi Jaipur.
Here we have curated a list of the most beautiful designer bridal lehenga with images from Vasansi Jaipur online collection in different price ranges. For your ease, we have divided the lehengas into three price ranges in this article:- 2-3 lakhs, 1-2 lakhs, and below 1 lakh.
Slay your wedding look in one of these lehengas or get more options on the Vasansi Jaipur website.
Shop Bridal Lehenga Choli Online from Vasansi Jaipur 
Buying a bridal lehenga online is a great deal for brides. So it is essential to ensure safety in money transactions and device data tracked through cookies. Moreover, when shopping online, you need to choose a brand that you can trust to deliver the right product. Considering the above points, we can say that Vasansi Jaipur meets all the criteria and is 100% trustworthy for shopping special wedding lehenga choli online.
In addition, Vasansi Jaipur also offers huge discount offers from time to time. So you might get lucky and grab the best discount deals going on now at Vasansi Jaipur.
Bridal Lehenga with Price Range 2-3 lakhs
Here are the best bridal lehengas that fall in the price range of 2-3 lakhs. If you have no budget restraints and desire to wear an expensive and designer bridal lehenga, these options from Vasansi Jaipur will best fit you.
Magnetic Pinks for Bridal Wear
If pink hues are your first love in the color palette, why not shop for a special wedding lehenga choli in pink color? We have the perfect lehenga for you in pink color. This bridal lehenga with magnetic pink hues and intricate zardozi work is full of grace. The online bridal lehenga price for this is Rs. 2,13,500, and you can see more images of this collection and buy it now from Vasansi Jaipur.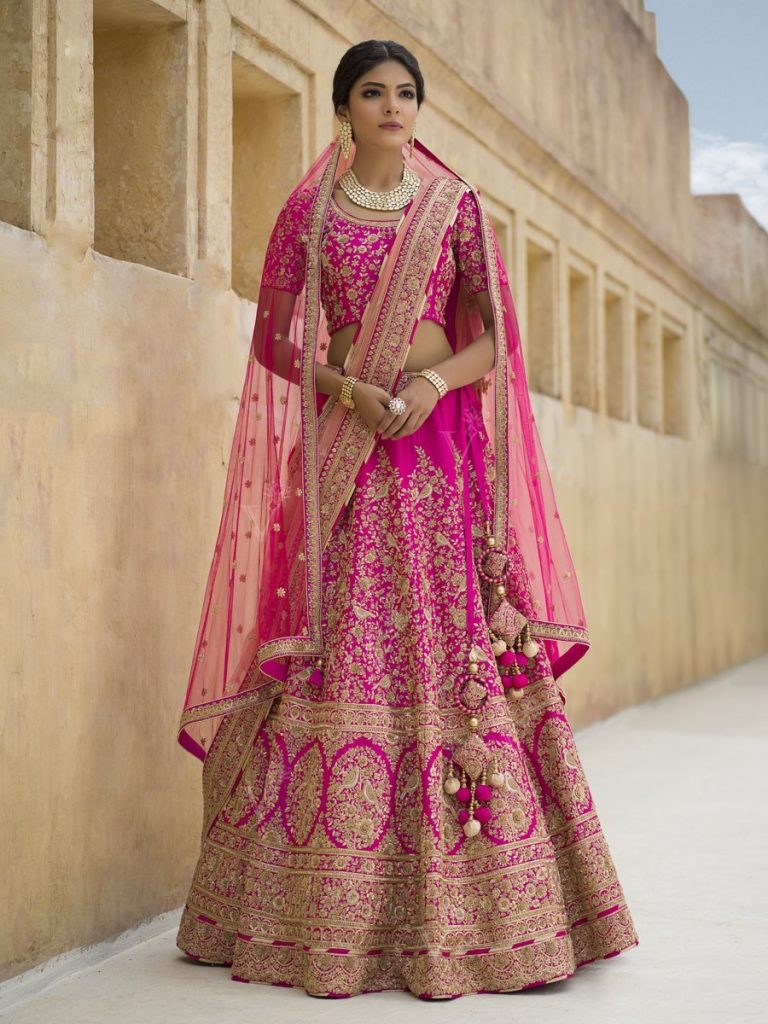 Ethnic with Modern Touch
Would you want to go for a modern touch red lehenga for a vintage or royal theme wedding? If yes, then this red lehenga from Vasansi Jaipur will be perfect for you. It is made with raw silk fabric, and the detailing work is done with zardozi.
If you love this, see the complete bridal lehenga with images and price and another design from the same collection at the Vasansi Jaipur website.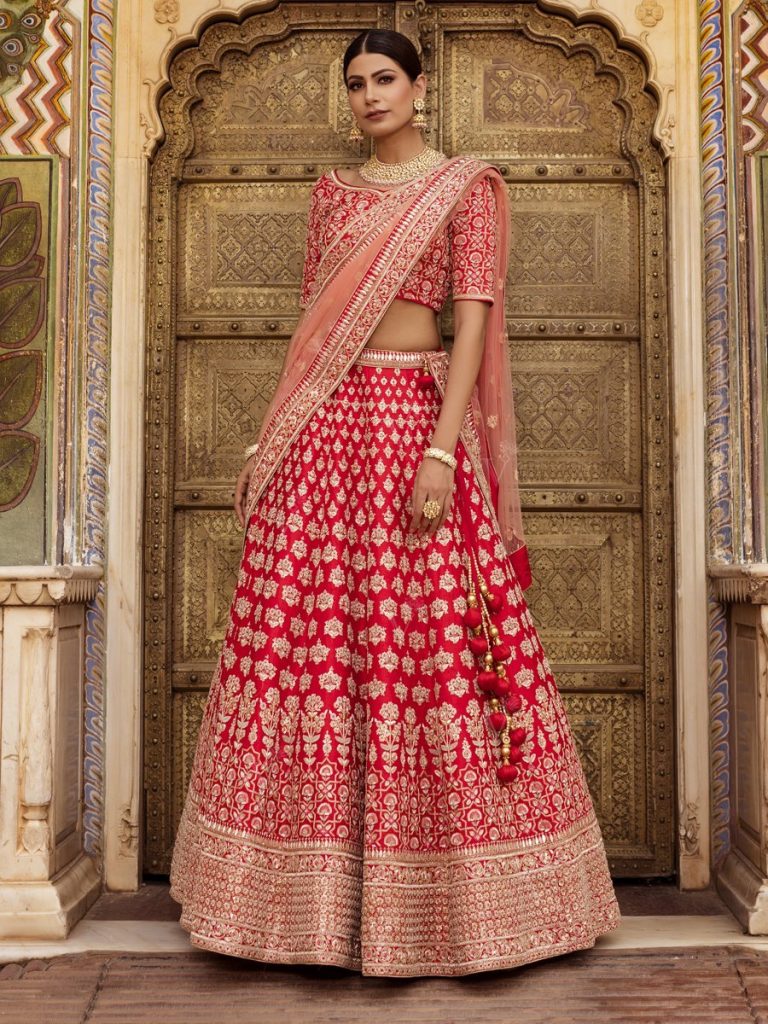 Bridal Lehenga with Price Range 1-2 lakhs
This is an ideal range for most brides, so here are a few of your favorite bridal lehenga with images at the price of 1-2 lakhs from the Vasansi Jaipur collection.
Glow in Natural Beauty
The nature-inspired motifs on the designer bridal lehenga choli have been used forever, yet they haven't lost their charm. Similarly, the different designs of motifs on this maroon color velvet bridal lehenga are the perfect symbol of nature love and will never go out of trend. If you also loved this bridal lehenga, buy it now from Vasansi Jaipur. The price of this bridal lehenga choli is Rs. 188,500.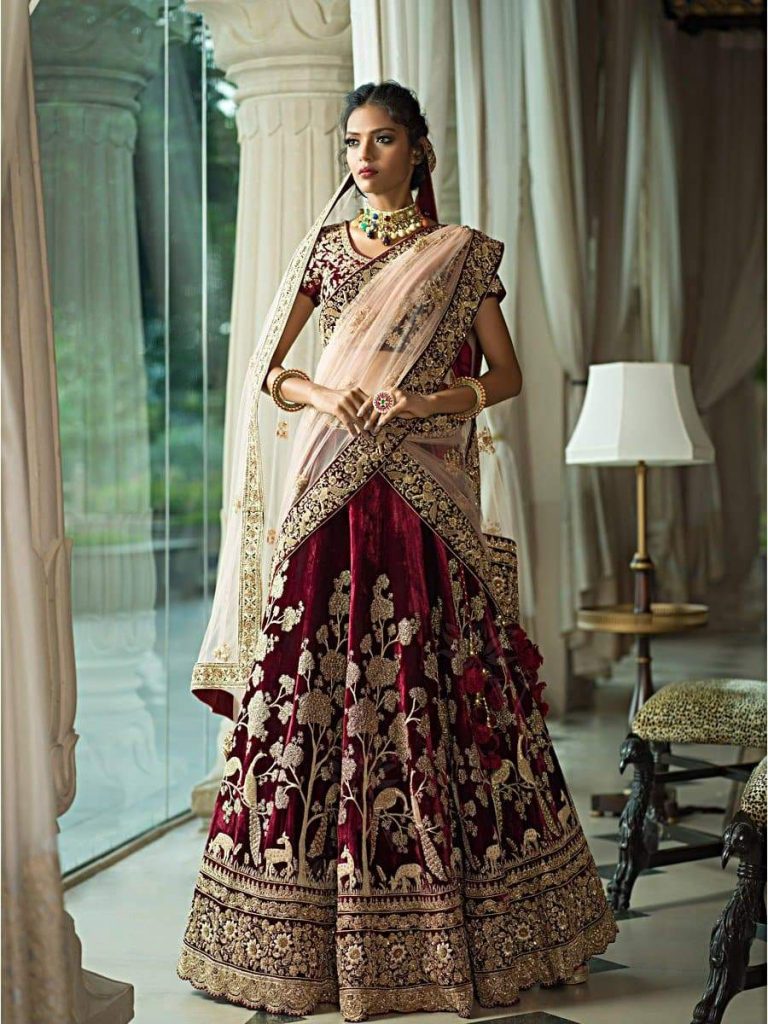 Go Minimalistic in Bridal Lehenga
If you want a simplistic bridal lehenga that matches your personality and charm, then we have the perfect dress for you from Vasansi Jaipur. This peach color bridal lehenga is an example of sheer beauty in subtle wedding outfits. The play of colors in the raw silk lehenga skirt is simply mind-blowing. The handcrafted zardozi and thread designs blend beautifully with each other.
It will make an amazing outfit for your intimate wedding if you want subtle yet royal detailing work on your special wedding lehenga choli. Shop this lehenga online at a price of Rs. 1,83,000 from Vasansi Jaipur.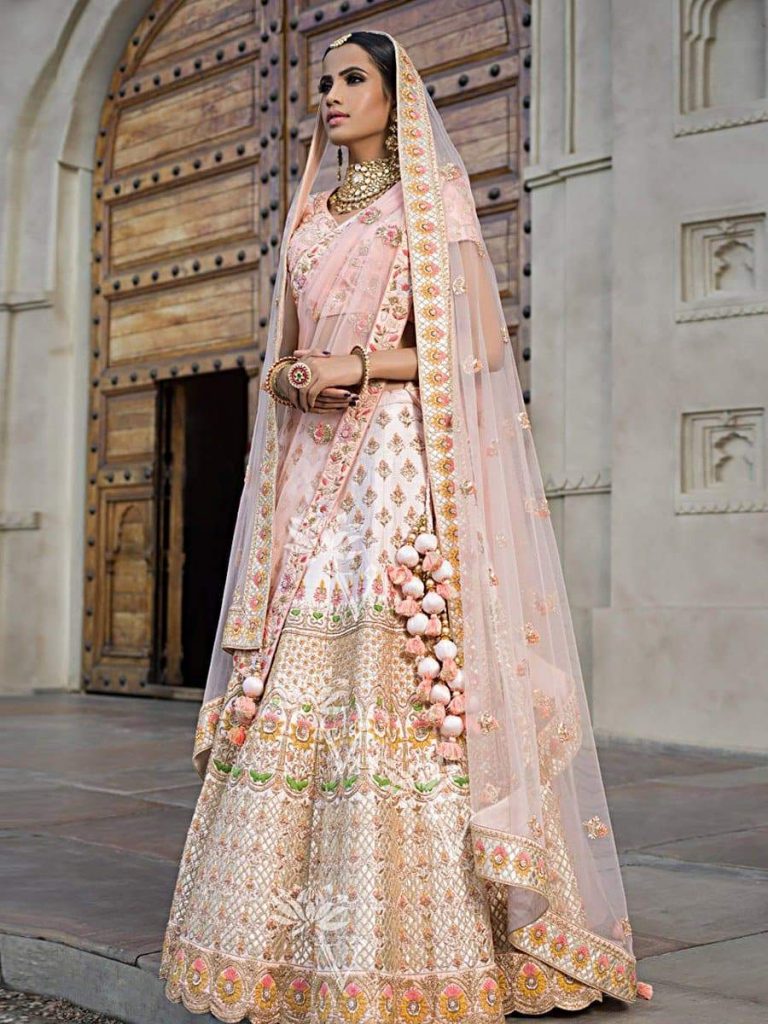 Bridal Lehenga with Price Range Below 1 lakh
If you have a tight budget for shopping for your wedding lehenga, see the bridal wear dresses under 1 lakh from Vasansi Jaipur.
Red Bridal Lehenga
Pittan's work is native to Rajasthan and is one of the oldest and unique types of handwork. As compared to other types of work, it is a little cheaper. So the pittan work bridal lehenga is available at a low price. This beautiful raw silk red lehenga is also embellished with pittan work. The rate of this bridal lehenga is Rs. 74,500. This wedding lehenga is nothing less than the other expensive lehengas in quality and design, even with the low price. So don't let your budget come between you and your dream of shopping for a designer bridal lehenga.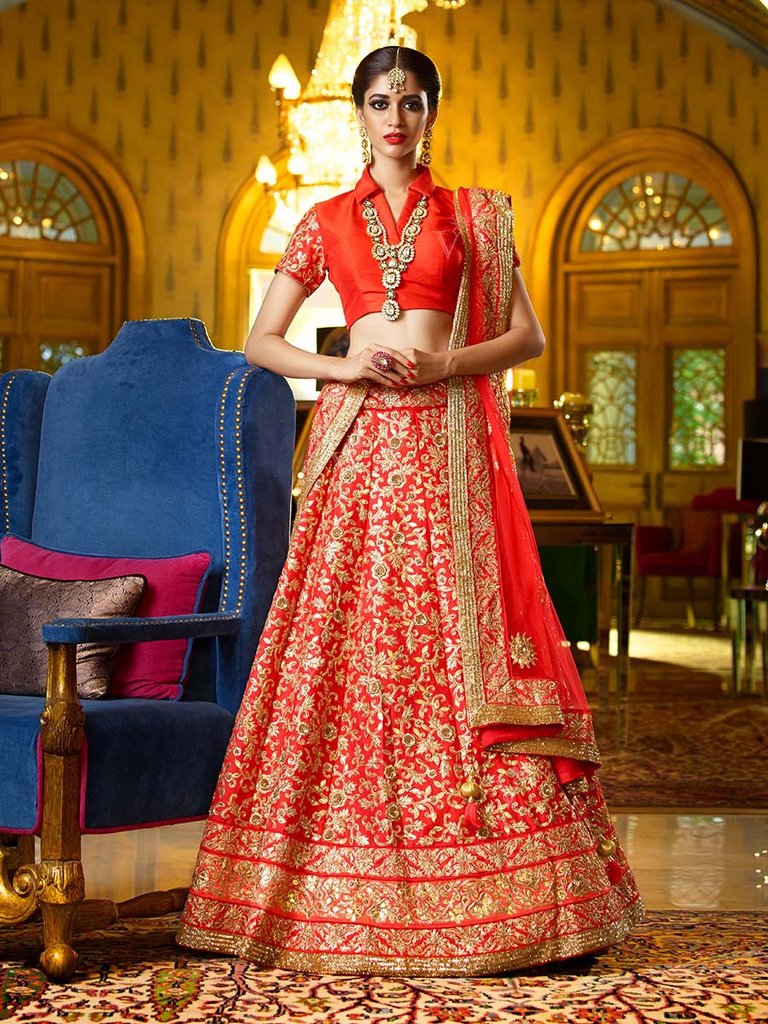 Conclusion
We know just a few options may not be enough for bridal wear shopping. Therefore, we suggest that you visit the Vasansi Jaipur website for more special bridal lehenga choli shopping options. Explore the lehenga for bride images with price and current discount offers.
The Vasansi Jaipur website has a great variety of bridal and party wear a lehenga for the brides, bridesmaids, and the ladies of the bride and groom's families.
If you haven't already visited the Vasansi Jaipur website, do it now. All the wedding lehenga displayed on the website are limited edition and can go out of stock any second, seeing the current discount offers. So hurry up, select and order your bridal lehenga online now.