If you're looking to get into the warehousing industry, you may be wondering what it's like to work in this environment. Warehouse jobs are not necessarily a career that many people think about if they're not already involved in the industry, but these positions play an extremely important role in the way that we live and make purchases. The warehousing industry is making a conscious effort to attract more female employees and younger employees to help the industry keep up with the ever-changing world of shipping and commerce. Learn more about what it's like to work in this environment, including some tips on warehouse safety.
Warehouse Associates Are Extremely Important
The entry-level position in any warehouse, warehouse associates are actually much more important to the entire production than some people believe. Every warehouse is going to have slightly different job descriptions, tasks and routines, but for the most part, the warehouse associate is in charge of receiving and organizing the warehouse stock and orders. This can include a large array of different duties–from pulling and preparing items to be shipped in addition to receiving and organizing new stock shipments. Essentially, warehouse associates are responsible for ensuring that everything in the warehouse is coordinated and running smoothly. Without these employees, the warehouse would be impossible to navigate. And, warehouse associates have a lot of room for growth for anyone looking for a long-term career opportunity.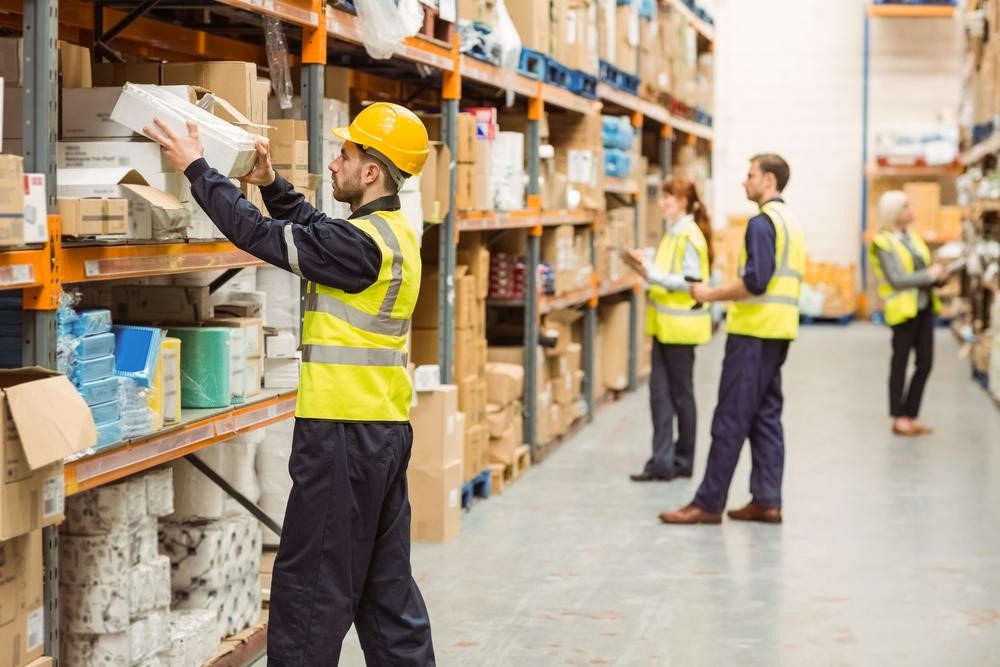 Source: ESB Professional/ shutterstock.com
Warehouse Jobs Are Plentiful
Thanks to the astronomical popularity of eCommerce, the warehousing industry has been booming in the last few years, and more people are looking to this sector for jobs. Although the warehousing industry is still looking to attract more employees to some of the lower level jobs, the Bureau of Labor Statistics reports that warehouse employment has increased 90 percent between 2000 to 2017, while the general employment rate has only gone up by 12 percent. If you're looking for a sector that has a lot of potential for growth, warehousing is it. Online shopping has only become more popular and prevalent over the years, increasing the need for additional warehouses and warehouse workers. If you get involved from the start, you'll also have plenty of opportunities to work your way up within the company.
Level of Education Doesn't Matter as Much
When it comes to manufacturing jobs, employers are looking for people with the right types of skills and experience that don't necessarily come from getting a degree. If you're looking for a good paying job that doesn't require a certain level of education, you should try looking for a job in warehousing. Some of the most important values that they look for in workers are independence, self-motivation and reliability. If you can demonstrate that you embody these traits, that will get you a lot further. It has been reported that warehouse workers with a certain level of education also tend to make more than others with the same level of education in different industries.
Warehouses Tend to Promote from Within
Getting into the warehousing industry is an excellent way to begin building a career for yourself because of the importance the sector places on experience. Most warehouses would rather promote their current employees than find an outside hire because they trust that their current employees already understand their systems and have proven that they demonstrate some of those essential qualities. Even if you start out as a warehouse associate, there's a good chance that you'll be able to work your way up to another position that interests you more. Unlike other industries, warehouses don't always make you wait a certain amount of time for a promotion, either. If you show that you're a hard-working employee who wants to continue working with the company and you express an interest in moving up, you'll likely have many opportunities presented to you over time.
There is a Lot of Room for Growth
Because warehouses are so essential and the industry has experienced so much growth over the last decade, there is a need for a lot of employees. And, as the industry further grows, more employees will be needed. Although many people don't necessarily want to start at the entry-level position, the potential for success is exponential the longer you stay with the company and prove yourself.  Warehouses are so large with many jobs, giving you a lot of opportunities to be promoted. You may even discover what aspect of warehousing you enjoy most and work towards becoming part of that department.
Source: mangostock/ shutterstock.com
Small Companies Offer Great Benefits
Large corporation-owned warehouses have their own advantages (and disadvantages), but working for a small, mom-and-pop type company can be very rewarding. Typically, owners of these types of businesses like to take a more personal interest in their employees, which can feel rewarding and may lead to increased promotion opportunities. Smaller warehouse companies often offer more flexible schedules, additional time off and a greater sense of community with their employees. When you're looking for a warehouse job, try to seek out these smaller companies if this is the kind of environment you're looking for. Larger corporations do tend to have great health benefits, but many people feel like a small, replaceable piece of the large company.
Warehouses Are a Vital Part of Our World
Warehouses and their workers are essential to our economy because so much of our business relies on shipping and storing. Without this industry, we would have a much more difficult time selling and purchasing the range of items that we do. And, eCommerce would be a nonexistent industry. Although this sector is a vital part of our lives, most people don't know a lot about warehousing. If you're looking for a career change or a career path, consider getting into the warehousing industry. There's tons of room for growth and an emphasis on in-house promotions. Be sure to learn about warehouse safety before committing to an entry-level position, but with the right attitude and level of motivation, you'll be climbing the ladder fast.